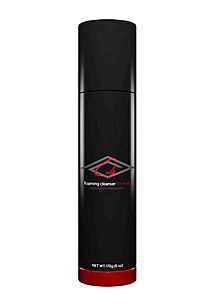 When it comes to face washing products, I like things simple. Wet hands-add product to hand-apply to face… You get the idea! Having to know which time of the day (morning or night), or "only use on non-shaving days", can get pretty confusing. Not to mention, time consuming! So here's a straight forward foam face wash that cleans, exfoliates and hydrates (so important!) all at the same time.
Not only saving time, but important brain cells needed to remember more important stuff like- which direction to shave in.
This 3-in-1 Foaming Cleanser by Cole Skincare for Men was created by Cole Patterson, skin care specialist to a long list of male celebrities like- Usher and Kevin Hart to name a few. Bottom line, she's figured out a quick, easy, and effective face washing process for the very busy guy.
Give it a shot!
I sampled the 1.50z bottle and it lasted forever. So the full size 6.67oz @ $32 should be a great buy!
[xrr rating=4.75/5]