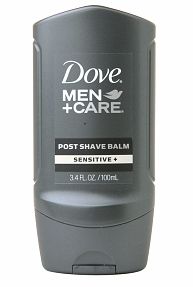 Dove Men+Care has been developing a very strong name in the men's grooming market. I've taken notice that it seems to be one of the most popular drug store brands on the market for men. So getting a chance to try out their newest Face Care line was, naturally, the next step for me.
There are 4 products within this new line, and to me the most effective, and my personal favorite was their – Post Shave Balm. It's a light-weight formula that offers a very subtle fragrance that's free of alcohol (good move!). The pro-vitamin B5 is the ingredient chosen to deliver calming/soothing relief after the shave, and it does just that!
Without this item, Dove Men+Care's – Face Care line would be just another shaving line on the drugstore shelf.
[xrr rating=4.15/5]