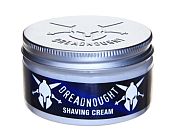 If the design of this shave tub looks familiar, it's because it is the new US counterpart to the UK's- The Bluebeards Revenge. Due to a name conflict, the company had to delay the launch here in the US. So they re-grouped and come up with another name.
So let's give Dreadnought a warm USA welcome!
Same great beard reducing formula as The Bluebeards Revenge, just a new name.
Review: 
This shaving cream takes pride in promising to slow down the growth of the beard within 30 days! The key ingredient recruited to do the job is called Decelerine. It's a mixture of paraben free active ingredients that claim to delay hair growth, reduce the frequency of shaving and depilation, and at the same time.
I found it to overall be face-friendly. It produces a great lather, comes in a tub that provides enough product for months of shaving fun, and the best part… confirmed that you will see the slow down of beard growth it claims! So for the ingrown hair sufferer and those who have to shave again before lunch, pick this one up, you won't be disappointed!
[xrr rating=4.5/5]