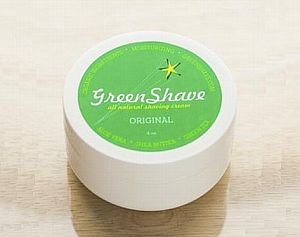 All natural is the way that many grooming lines are focusing their attention these days. And with so many men concerned about shaving sensitivity and acne woes, it certainly isn't a bad idea!
GreenShave's shave cream comes in two all-natural fragrances – Eucalyptus and Original (Almond scented). Personally, I always gravitate to milder scents, so I preferred the Original scent. Their shave creams contain no parabens, sulfates or preservatives which is a great way to start off considering the many debates surrounding how harmful these additives can be.
This cream was very easy to lather-up, and it delivered a very enjoyable scent. The shave itself  was also comfortable. However, I did find myself  wishing that it's lather was a bit richer in order to allow for greater moisture on the skin. But with ingredients like – shea butter, aloe vera gel, sesame oil, and almond oil what it didn't give in moisture, it made up for in skin healing choices.
[xrr rating=4.25/5]