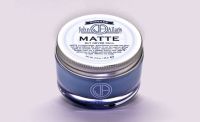 From one barber to another this pomade is great!
It's "matted", which means no shine, so it works for multiple styles (textured is no exception!). John Allan's – Matte offers a great hold, which can be stronger or lighter, depending on the amount used. And the best part… it won't look like you spent a lot of  time in front of the mirror.
A little goes a long way, and the fact that it's lightweight, is a bonus for the shower and your pillowcase. To top it off, it smells great!
How's that for a great bang for your buck?
[xrr rating=5/5]