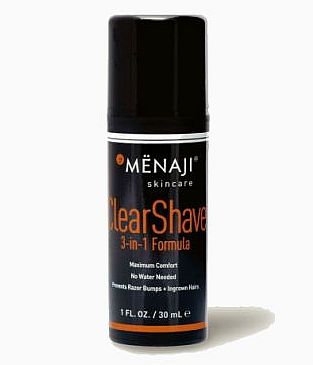 There are TONS of guys out there who skip the pre-shave steps to shaving. I know, because they tell me!
So, what if there was a product that could help you to eliminate the prep-work and go right into shaving without a splash of water?
Enter Menaji Skincare's Clear Shave 3-in-1 Formula.  Designed to deliver a close and comfortable shave for the face, head and chest without the "routine". Loaded with ingredients that focus on comfort and glide like: Manuka Oil, Oat Kernel Extract, Cucumber Fruit Extract and Glycerin to name a few.
My thoughts: It's a great smelling shave gel at a great price $10 @ 30mL. Perfect for travel, after gym shaves and the 5 o'clock shadow shave that shows up at mid-day. Not to mention, the clear color allows for easy detailing for beards and mustaches. As for performance, depending on the sensitivity of your skin it will be a close, comfortable and irritation free shave. However for me, it performed much better with just a simple splash of water prior to the shave.
Overall, it's a smart option for the guy always on the "go". Just make sure to pick up there awesome aftershave balm along with it, to ensure smooth and comfortable results!
[xrr rating=4.5/5]