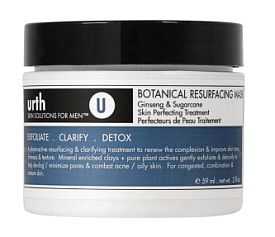 Yes, I know that face masks are pretty far off the grid for most men. But if you ever decide on getting one, this is it-
Botanical Resurfacing Mask by Urth Skincare for Men
 . These guys at
Urth Skincare
really know how to blend their ingredients for great results!
Kaolin Clay, Lactic Acid, Salicylic Acid, Ginseng, Cucumber Extract and Eucalyptus
oil are just a few ingredients that are designed to exfoliate, heal, treat and even out your skin tone.
Once applied to the skin you immediately feel a cool that intensifies (but feels good!) as you keep it on. I leave it on for  about 10 minutes, then rinse it off in cool water. Your face feels great and it leaves a nice moisture barrier that welcomes your moisturizer. I personally use it at least once a month immediately after a shave.
Trust me, you'll love it!
[xrr rating=4.75/5]