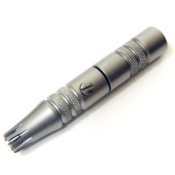 Do you remember my posts about what to do with your ear hair?  Yes, I said for you to wax 'em!  And, many of you have…but, many of you are still a bit reluctant.  So here is another solution…
Groom Mate Platinum XL Nose & Ear Hair Trimmer
A few months ago I was given one to try out and was very impressed with how simple and easy it is to use, not to mention painless.  Who would have thought that this small item would produce such fantastic results?
 One of Amazon.com's top three selling products last year is back for another round of grooming!
Small (2.6″) & Light-weight

Pure stainless steel

Battery free (yeah…I know, pretty cool huh?)

Noiseless

Unconditional Lifetime Guarantee 
Just under $20, you simply cannot go wrong!  A painless, noiseless, tiny nose and hair trimmer that will last you forever!