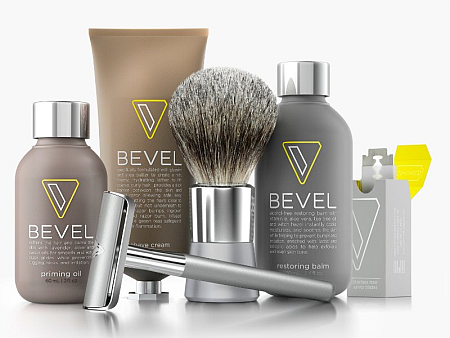 Bevel is a new shaving line developed by Walker and Company with the focus of giving men of color a complete "go-to" shaving system. The brain behind this operation is Tristan Walker– who was once a Wall Street trader and director of business development for Foursquare.
Purchasing of this system is pretty easy due to it's online access and subscription-based system. A 30-day impressively designed Bevel starter kit comes complete with a DE Razor, Pure-Badger Shaving Brush, Razor Blades, Priming Oil, Shave Cream, and Restoring Balm, for the price of $59.95. A great deal considering the price of DE Razors and Badger Brushes on the market. 
PERFORMANCE:
Overall, I'd have to say that I really enjoyed how well this system was not only designed, but how it performed. Being a big fan or pre-shave oils, the Priming Oil offered a wonderful yet subtle fragrance of Lavender and Olive Oil. A well balanced consistency that I for one enjoyed at home, and welcomed many times in the shaving process at the barbershop! Combined with the Shave Cream, they delivered a modest lather that kept my shave close and comfortable every time.
The badger brush included in the 30-day starter kit is certainly not the highest grade you can buy. However, I would have to say that it's a great brush that gets the job done with very good lather creation and well balanced application. And for what it's worth, I only lost 2 or 3 hairs in the process, and to date no more!  The attractively designed DE Razor complements the overall look of the system very nicely. The sleek design and slightly heavier head coupled with its razors, creates the opportunity to get each hair the 1st time without having to double-back. And with a slightly heavier head, this should (hopefully) cause a guy to lighten his stroke. Which would be perfect for the sensitive skin shaver, because less-is-more!
The aftershave balm has 3 great ingredients (Oat Kernel, Tea Tree and Jojoba Oil) that are on board to help repair and moisturize. And even though I think that it's tingle on the skin should be "dialed back" a bit, it still performs it's duties fairly well.
FINAL THOUGHT:
From it's design/presentation, to it's retail positioning, I must applaud Walker and Company on how well the introduction to market was executed. I see a great deal of potential in what this line has to offer, and I am looking forward to seeing how well it penetrates the market.
[xrr rating=4.5/5]