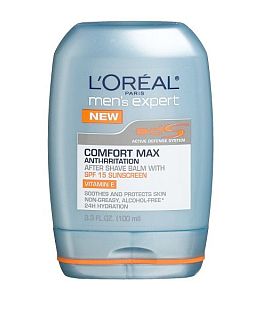 Here's an after shave balm that can very easily be found in you local drug store. With ingredients like shea butter & vitamin E this balm falls in the winning category for skin calming properties.
Another perk is L'Oreal's Men's Expert addition of SPF 15. It's great because it provides enough moisture for it to be used also a moisturizer. So in this case (especially  in the summer), you shouldn't have to double up with this balm and then your daily moisturizer. And with that being said, even though it has the "broad spectrum" ingredients it won't feel greasy on the skin. Hey not bad for having less products on our face, right?
My only hang-up is that I'm not a fan of products that force the "manly scent" on us. And this balm does this. However, its fragrance does quickly disappear after a few minutes.
$7+ for 3.3oz at your local drugstore.
[xrr rating=4.25/5]