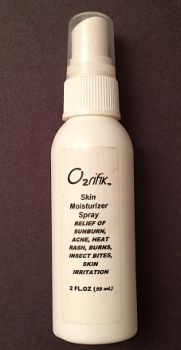 Ever felt an instant burn after using a fresh blade to shave? Well for me, I feel it once in a while especially when i'm trying out new ones. So what do you use to calm the burn?
Enter O2rifik's Moisturizing Spray.
This company – O2rifik, has focused it's energy on developing products specific to soothing the pain of minor burns, cuts & abrasions. This spray is an odorless and pain-free approach to calming the skin, while also preforming as a great prep to follow up with a moisturizer of aftershave balm.
I've personally used this as an alternative face splash for the past month and have truly enjoyed it's calming effects. A great tool to have in you shaving kit, or beach bag!
[xrr rating=4.75/5]