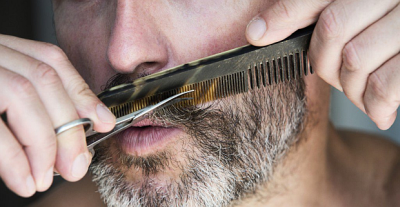 Have you ever had a difficult time taming those little hairs in your beard or mustache that are always determined to keep your facial hair from looking its neatest? Many of my clients often struggle with this…
Well, here's a barber trick that I learned a long time ago, that can help you in-between appointments to the barbershop! I call it "smoothing out".  It's a simple trick that requires trimmers or a pair of clippers (w/ comb guards).
First select the comb guard that best fits the existing hair length, and attach it to the trimmer or clippers.
Next, trim the facial hair downwards (towards the neck). This process only cuts the top portion of the beard or mustache, leaving the hair length intact. As a result, the only hairs cut are the hairs sticking out (or beginning to curl), thereby recreating the original neater style.
This is a simple and easy trick that can take less than 5 minutes to accomplish in the morning. So, give it a try and see how it works for you!