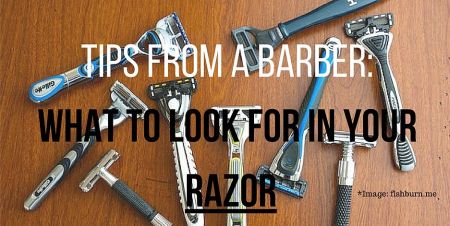 One thing (of many) that I love about my job is that I get to talk to and share advice with so many of you. A common question I am always asked is, "How can I get a better shave?" For many of us, our beards cover over 50% of our faces, so it's an important question that deserves a solid answer. Fortunately, a solid answer can be given no matter the preferred shaving tool. Many of you know me as a die-hard DE razor user; however, the truth is that there are millions of men out there that actually do quite well with a multiple blade, and they deserve solid information as well.
At the end of the day, it's the blade that will always dictate how satisfied the novice or the most experienced wet-shaver will be. So here are three uncompromising requirements that you should look for in a multi-blade razor.
Now, you know I like to be honest here, so with full disclosure I created this post with some information from my friends at Gillette Shave Club. However, please remember that my opinions are ALWAYS my own!
Blade Life. What use is a blade if it only provides you with a few good shaves? My money is too important to me to feel cheated. Unfortunately, many blades don't last long, yet men continue to shave with a dull razor. This is the key area where I see many clients go astray with a shaving routine and they always have the same answer: I ran out of new blades. Guys… no! There's this thing called the internet: do better.
Convenience is a big deal for us and these shave clubs seem to get that. But, inconsistent blade life is one of the common frustrations that are keeping many from buying in. Gillette gets the struggle, and with Gillette Shave Club entering the arena, you can get the high-quality, high-performance blades in each delivery. Perhaps this is the change everyone is looking for.
Comfort. Let's face it, razor blades are sharp. So, a multi-blade razor design that already dictates the angle in which the blade rests on the face can make or break the comfort factor. It's important for this shaving tool to not feel too restrictive while allowing the blades to do their job. This especially goes for areas along the chin and jawline, where razor burn is most common. With the adoption of the

pivoting

head

, comfort has drastically improved for the average shaver.  With that said, the focus on improved comfort over speed in a razor is what will make your daily shave much more enjoyable.
Sharpness/Closeness. As I mentioned above, a dull razor will tug at your skin, give you a subpar shave and possibly (more like probably!) irritate your skin. A sharp razor, however, will give you a closer shave which will, in turn, last longer and cause less overall skin irritation. When looking for a blade that meets my standards for sharpness I want a blade that gets the job done with the least number of shaving strokes. Because the less time spent in a single area equals less chances for irritation. Multi-blade users demand these results along with closeness, comfort and fast results with each stroke. Before agreeing to write this post, I did a few tests of the new

Gillette

Fusion

ProShield

for myself. I have to say, the razor satisfied this requirement for me. These guys seem to be on to something!
Alright guys, now you have all the information you need to find the best razor for you. Plus, you have no more excuses… you are already reading this online so now you can open a new browser window and now that you know what you're looking for, definitely try out the shave club scenario. When it comes to shaving, the market is full of options all fighting for your attention. And for good reason, right? These days there is more concern and greater interest in finding products that help us to look our best, and the right shaving tool is no exception.
This is why I am excited about the Gillette Shave Club. It puts us consumers in the driver's seat at up to 50% less than some other shave clubs depending on the plans you choose. Plans are flexible, offering a variety of options in terms of cartridge, handle and frequency of delivery. You won't even have to leave the house and you'll never run out of blades again. And in my professional opinion, it's great to see another brand in this marketplace that offers even more options. As we continue to demand better quality, brands will continue to evolve to ensure affordable, convenient and solid products.
Tell me… what has been your go-to razor up until now, and have you tried a monthly shave club before?