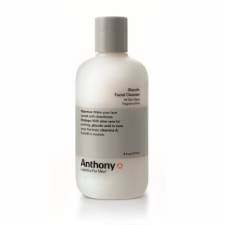 There are many face washes on the market that can get your face clean, but I chose the Glycolic Facial Cleanser by Anthony Logistics for reasons that go beyond cleansing.
The primary benefit of the main ingredient – Glycolic Acid, is to help with reducing the appearance of fine lines and wrinkles. It also has the capability of evening out skin tones by removing or reducing discoloration from sun damage or hyperpigmentation (See Post: Is shaving making your face darker?).
It is apparent that through the aggressive nature of shaving, many men find their skin slightly darkened. Finding a cleanser that can minimize the long-term effects of shaving and aging is a WIN-WIN!