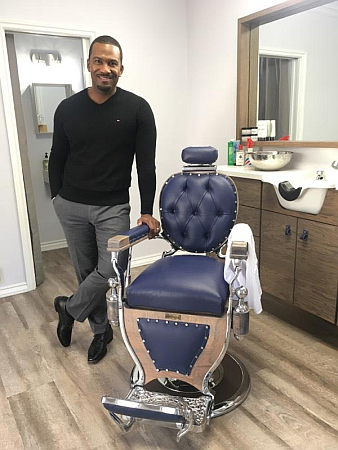 Guys, here's a quick story. 12 years ago I moved to Los Angeles with the goal of opening a barbershop named, The Men's Room. But, little did I know that this very name (www.themensroom.com) would be an instrument used to share my men's grooming knowledge and barbering skills to the world.
Today, I picked this dream back up with much more to bring to the table than I could have 12 years ago! And you know what else? The entire vision of the barbershop was inspired & designed by my wife. The floors, the walls and even the beautiful barber chair is evidence of her continuously growing love for my craft and interior design. The latter being a hobby that she would dare not express outside of our home 12 years ago.
So what's the moral of the story? A delayed dream isn't a dead one. Quite simply, it may very well be the preparation you need for something much bigger. Perhaps more than you could've ever imagined. So keep working hard at whatever your passion may be. Because, there's nothing more satisfying than being able to say you DID the thing you LOVED. So, if you are ever in the area please stop by and say hi!
My new barbershop is located at – 818 N La Cienega, in Los Angeles. Thank you all for being a part of this journey! ⠀