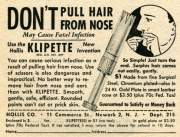 I don't think that I need to expound on this much more…
One of the responsibilities of a barber is to finish off a haircut with a quick clean-up of the eyebrows, ears and the nose. If he or she isn't doing that, then you can always ask them to do so.  But, you should never rely on anyone to do something you clearly can do on your own, got it?
So, always keep a nose trimmer handy (I use the Groom Mate Platium XL Nose Trimmer), so you can take care of them yourself in between visits to your barber. After all, that is another benefit to having a mirror in the bathroom!