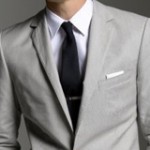 What is the hot style for suits right now? And what ties / shirts look best-skinny ties, bow tie, etc. ?– Karl, San Diego, CA
This is a timeless question, but the answer always remains… "it depends"! Just like a hair style or hair cut, you should go with what you like and what makes you feel good.  However, there are some international trends and styles that are "hot" or more popular for the time. For suits, the 3 button is the classic business style; however, the 2 button suit is now a bit more stylish in business, allowing for more of the tie and dress shirt to be seen when the jacket is closed.
Ties: Skinny ties and bow-ties are all personal preference, but a great tip is to match the colors with the seasons, for example: Spring – yellow, pink, pastel colors, and Fall –  brown, tan, mustard, etc.
Shirts: Find a brand that fits your body type and stick with it. Also, although wearing colors that match the seasons is not required, it is a plus.
For more style questions…  "Life… And Style" by Michael Ferrera