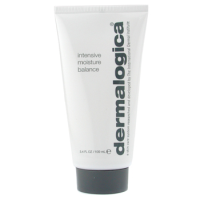 It's cold, it's dry and your skin's trying to tell you something.  You know, sometimes you need something stronger, something you can trust that will give you all day moisture protection, without the worries of having to re-apply throughout the day.  Is there really a product out there that can give you this, and then take it further by also smoothing out your fine lines?
Well there is, and its been around for a long time so I'm going to help it get the buzz it truly deserves!
Dermalogica's – Instant Moisture Balance
Designed to hydrate, improve elasticity, and reduce fine lines… How you ask?
With Vitamins of course!
Vitamin A – helps to increase your skin's elasticity
Vitamin C & E – aids in reducing skin damaging free radical activity, which helps the lipid barrier (skin's outer layer), seal in moisture.  The more moist your skin…the less lines you see!
This moisturizer truly packs a punch with its all-in-one design. It is a bit pricier than other products in it's category, but I've been using the same tube for over 3 months now, and I still have a little bit left!
Get it!
[xrr rating=4.75/5]