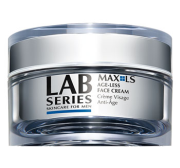 MAX LS Ageless Face-Cream by Lab Series
Yes, the fountain of youth was scientifically engineered, and is now being mass produced and sold in 1.7oz jars… TSA approved of course!
MAX LS Ageless Face-Cream is powered by Sirtuin Technology, which helps to dramatically reduce the appearance of fine lines and wrinkles.
I know… you're asking, "What is Sirtuin?"
Sirtuin – is a protein enzyme in our bodies that aids in repairing cell damage by extending the life of a cell. Simply put, if a cell is at a point of deciding whether to live or die, these sirtuins perform "surgery" to help repair the weakened part of the cell.
So when Sirtuin is added to a face cream, picture top surgeons, on-call and ready to handle an emergency on your face!
Hey, I'm convinced! And apparently so was Men's Health Magazine (2010 Men's Health Grooming Award – recipient)!
[xrr rating=4.75/5]