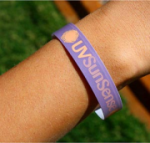 I stumbled upon this article just in time for you to take your party to the beach!
Have a read!
Not knowing when to reapply sunblock is one of the main reasons so many of us are at risk of getting skin cancer. To help you remember, UVSunSense has developed a wristband to which you apply lotion at the same time as you slather it on yourself.  When the band fades from bright purple to lavender, it's time to reapply. You'll know you've had enough sun for the day when the band turns pale yellow.
For only $7, find it here!
*Article taken from Men's Journal Magazine – August 2010.