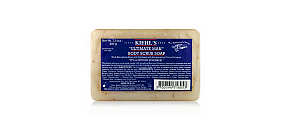 More and more bar soaps are seemingly becoming an after thought in the shower these days, considering the plethora of body washes on the market. If you're one of those struggling to find an effective bar soap that will get you super clean and won't dry your skin out, look no further!
Kiehl's Ultimate Man Body Scrub Soap. It covers all of the bases with an amazing lather, a refreshing (but subtle) fragrance and the best part… Bran & Oatmeal to facilitate the exfoliation process.
As we all know, if a body wash is used in the shower, the best tool to lather up is a loofah or an exfoliating bath towel. Kiehl's took care of that by creating a soap that not only lathers up on its own, but scrubs your body as well. And, yes it will get you clean… trust me!
For all of you bar soap fans, this is great buy!
[xrr rating=4.5/5]