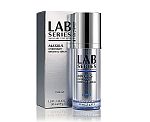 Lab Series Skincare for Men's MAX LS system has certainly attracted a lot of attention in the anti-aging category for men. And the Overnight Renewal Serum is one of the items within the line that has caused quite a stir!
For best results it is recommended to be used at the end of your day when you are settling down for bed. It's designed to "trigger" a time-released multilevel renewal process while you sleep to continually increase the rate of cell turnover, revealing a smoother appearance upon waking.
Does it work? For me, I saw and felt a difference so yes.
Priced at $55 for 1oz., it would definitely make you think twice, but it's an investment in your looks, and at least you know one person that can vouch for the fact that it works! Besides, it's packaged in a pump bottle and one "pump" per day is all you need.
[xrr rating=5.0/5]