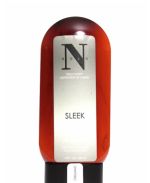 It's always great to try out new products that have entered the men's grooming marketplace! So needless to say, when Solo Noir offered their full range of products that are not only 100% organic but also developed for ethnic men, I welcomed the opportunity.
Using a very streamlined approach, Solo Noir offers 5 products that cover all aspects of men's skincare.
Since one of the biggest challenges ethnic men have is related to shaving, I chose their shave cream as the first to be reviewed in order to offer an idea on how this cream competes with other shave creams in this category. It is a lotion based cream that can be used as a stand alone pre-shave prep or both a pre-shave and shave cream. Upon application to a damp face, it delivers a nice subtle fragrance and a surprisingly welcome beard-softening creamy layer. It's packed with quite a few ingredients like Aloe, Coconut Oil, Shea Butter and Castor Oil, that allow for a "sleek", comfortable, and close shave.
As a newbie on the scene, this shave cream can definitely compete!
**For 15% off of purchases of $35 or more use this exclusive code at checkout! ~> Themensroom
[xrr rating=4.50/5]