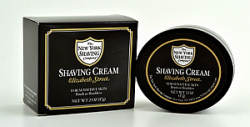 Last month's POTM has won this years 2011 Must Have Shaving Cream. I had a difficult time choosing this year because there were so many great shaving creams, especially after I also tried the amazingly fragranced Tonsorial Shave Cream by the same company. But, the Elizabeth Street passed the finish line because it's fragrance was much milder, and therefore more welcoming to the sensitive skin crowd.
As I mentioned in my previous POTM article, "I literally had enough lather to shave at least three times." It touts a consistent, rich lather that keeps the skin moist throughout!
Priced at $18 for a 4oz tub, get 2 and tell them Craig the Barber sent you!
[xrr rating=5/5]