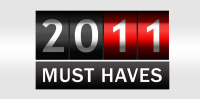 It has become tradition at TheMensRoom.com to have a year's-end list of Must Haves that denote the favored picks of the year. In keeping with this tradition, beginning tomorrow, December 1st –TMR will begin its daily announcement of the winning products for each of the 11 categories that comprise this years 2011 Must Haves list.
I personally tested every item, and let me say that it was a tough list to put together this year due to the overwhelming number of great products I tried.  During the month of December, I will also have a FREE STUFF giveaway that will include several items from this very list, so keep an eye out!
Please enjoy, and don't forget to let me know your thoughts by posting a comment or using the MGM (Men's Grooming Meter).