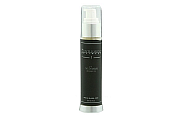 As I've stated in many of my posts, I never shave a client or myself without a pre-shave oil(See – My Quick & Classic Shaving Tips), simply because I am well aware of how much the shaving experience is enhanced by using  it.
So after scouring over several pre-shave oils on the market, I came back to one I've used many times over the years – The Standard Pre Shave Oil by The Gentlemen's Refinery.
Why? I like it because it's simple.  Not too thick, not too "watery"… Just right!
Pre-shave oils are designed to hold in moisture and protect the skin from the blade. The Gentlemen's Refinery pre-shave oil does just that by including Vitamin E and Roman Chamomile for healing, and essential oils that calm, tone, and restore the skin.  Hey, I don't shave without it. Why should you?
[xrr rating=4.50/5]