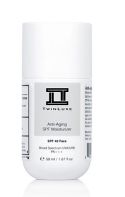 There are very few anti-aging moisturizers on the market that have an SPF benefit. So for men who choose an anti-aging moisturizer for daily use, and want a way to fight the sun's aging rays, their only option is to add a layer of sunscreen.
TwinLuxe recognized an area of need and worked to fulfill it with their very own Anti-Aging SPF Moisturizer. Packed with ingredients that aid the skin in strengthening and regenerating cells (ex. Buddleja Davidi Stems) along with ingredients like – Hydrolyzed Rice Protein, Willow Bark Extract for oil control and moisture. SPF 40 is the choice for this moisturizer, with the new "Broad Spectrum" development and labeling.
It's fairly light-weight considering the blend of anti-aging ingredients and sunscreen. Non-whitening (major plus!), non-comedogenic, fragrance & paraben free.
[xrr rating=4.25/5]