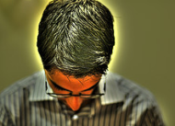 Ever notice how great your hair looks just after you leave the barbershop? It's styled nicely, and it has the great fresh-from-the-barbershop shine to it.  Then after a few days, you notice that it seems to have lost that shine.
Here's the reason why… It's called product buildup!
Product buildup can cause hair to become dull and flat. Many shampoos and conditioners are loaded with ingredients like alcohol SD-40, parabens and sulfates that can strip hair. Even though these ingredients make your hair feel soft, they act as a wax.
Since it is always best to shampoo your hair every other day to prevent dry scalp or an oily scalp (depending on your skin-type), the best way to keep your hair looking naturally shiny, is to lightly massage and rinse your hair (with warm water), between shampoos to avoid product build-up. Give it a try and see if that shine comes back!
Source: NewBeauty.com