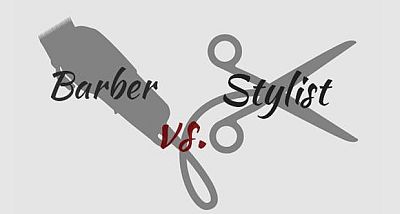 "What is the difference between a barber and a hairstylist (cosmetologist)?"
There is  never a week that goes by that I do not not get asked this question. Since it comes up so frequently, and since I've had the opportunity to work in salons & barbershops (I am licensed in both), I figure I'll shed some light on what may be a slight point of confusion.
The word Barber, is derived from the latin word "barba" meaning beard.  It is a person whose occupation is to cut hair, perform shaves and trim beards.
Hairstylist or Cosmetologist, is derived from the Greek word "kosmetikos" meaning "skilled in adornment", and is the study of the application of beauty treatments (haircutting/hairstyling, skin care, cosmetics, manicures/pedicures and electrolysis).
Barbers are also trained to provide facials, color and perm hair. This is quite similar to the services the hairstylist would perform; however, there are two very distinct differences between them.
(1) Shaving – the art of shaving with a straight-razor can only be performed by a licensed barber.
(2) Manicure/Pedicure – these two services can only be performed by a licensed cosmetologist or nail technician, not a barber.
There are many men that seek out hairstylists for that "new" more trendy hairstyle, and in many cases the people they choose are perfect for that goal. But, don't discount your barber just yet! The growing importance from men to look their best, is constantly putting pressure on barbers to expand their skill-sets.  And, that's pretty exciting for the barbering world!