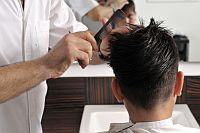 …your last haircut?" 
Sound familiar? I'm sure a barber has asked you this question once or twice in your lifetime, and for good reason! It's how we gauge how short we should cut your hair. You see, the average person's hair grows approximately 1/2″ per month.
So the best way to get your barber to give you a haircut closest to the length of your last one, is to remember the time-frame of your last haircut.
This is perfect advice for a guy who is shopping around for a new barber, or always traveling. Trust me, this little bit of info shared with your barber will save you tons of frustration and money!