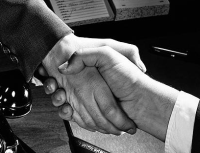 21 days to go!  Time flies doesn't it? 
Here's hoping that 2010 bring even greater days for you! 
This webpage has been so much fun to author, and I just want to say thank you! Your emails and comments are what help me make sure I deliver what you want to read. 
I stand firm in the belief that men should have a "go-to source" for getting their grooming questions answered, no matter how embarrassing they may be.  And, I genuinely appreciate those of you who have trusted me to deliver those answers.
So, with that being said, this post will be the last one for 2009, only to be back in the New Year with new topics and ideas (2010… here we come!).   Not to worry though, for the remainder of the year, I will be re-posting a few of the favorites for the veterans, as well as help bring new readers up to speed on what the rest you have been enjoying. 
Happy Holidays, and Happy New Year!
– Craig the Barber