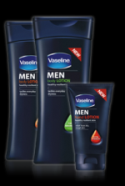 We've all used, or at least heard of the company Vaseline… right?  For me, it was the first time I ever heard the words "Petroleum Jelly".  I used this brand well into my teenage years, but as I got older I stopped.  I was in search of a better product, one that made my skin feel healthier and that was less common on women's bathroom counters.
So, now that I have my grooming regimen down pat, Vaseline comes up with a line specifically for me, I mean "men"… sorry!  They realized, along with so many other product lines, that the needs of men are very different from their female counterparts.  For one, "a man's skin is much thicker and far oilier than a woman's".
After years of research, Vaseline has created – Vaseline MEN – Body & Face and Hand Lotion.  It is designed to be quickly absorbed into the skin, leaving the skin protected, but not greasy.
I chose this product as my first Product of the Month, for several reasons:
(1) It is a great product for under $10.00
(2) It can be found in most drugstores (where most men shop for their grooming supplies)
(3) Michael Strahan is the spokesperson… (Go NY Giants!)
All jokes aside, I am impressed that Vaseline researched and found a way to make a product that is relevant to today's "New Age" man.
[xrr rating=4.25/5]