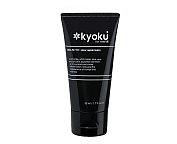 No great shave ends without using a product that's designed to heal and moisturize the skin, right? (See Post: Put something on… sheesh!) So I guess an after-shave balm would be in order!
Enter, Kyoku for Men's Razor Repair Balm.
Packed with aloe vera, chamomile, ancient Japanese oils and the age-old after shave splash – Witch Hazel. With so many ingredients added to this tube, the reduction of redness and inflammation was evident. However, the calming sensation does not last very long. Not to mention, the ingredient witch hazel can be a difficult scent to mask, which unfortunately creates a lingering reminder that you've used this balm.
Bottom line… not the best follow-up to such a great shave cream!
[xrr rating=3/5]