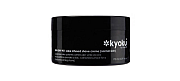 Shaving creams, shaving creams… what's the difference? Well, there are good ones… and not so good ones. This is a pretty good one!
Kyoku for Men Sake Infused Shave Cream currently holds it's place in TMR history as the January 2011's P.O.T.M., so I won't waste your time with repeating myself.
Here are two reasons that make this shave cream special!
The Japanese Sake, derived from fermented rice, has been known for many years to be an ancient skin softener. This creme not only moisturizes the skin, but it does so while allowing the skin to breathe and remain hydrated.
Silicone micro particles, coat the skin to ensure consistent skin to blade contact in an effort to significantly reduce drag. Kyoku calls  it a "friction-free shave".
If you're a traditional shaver, the fact that it doesn't lather may disappoint. But, I have been known to apply this cream manually as a pre-shave oil substitute followed by a lather-based shaving cream using my badger brush. The extra cushion is very enjoyable, and so is the great menthol cool.
[xrr rating=4.5/5]