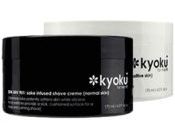 Through reading a few of my posts, I'm sure many of you can quickly recognize that I am a big fan of lather shaving creams. And you don't have to go very far to see that December's POTM, shared with you one of the best shaving creams on the market (See post: 2010 Must Have Shaving Cream).
But, you know there is nothing wrong with trying something different from time to time, right?  So I did… Kyoku for Men Sake Infused Shave Crème
Kyoku boasts (2) reasons why their shaving cream is a great choice…
The Japanese Sake, derived from fermented rice, has been known for many years to be an ancient skin softener. This creme not only moisturizes the skin, but it does so while allowing the skin to breathe and remain hydrated.
Silicone micro particles, coat the skin to ensure consistent skin to blade contact in an effort to significantly reduce drag. Kyoku calls  it a "friction-free shave".
My reason- It encompasses everything you need in a shaving  cream to achieve a smooth and extremely comfortable shave. Apply, and wait 2 minutes before you shave. Trust me, I wouldn't have added it as a step in my Signature Shave if it didn't live up to it's name.
Enjoy!
[xrr rating=4.5/5]