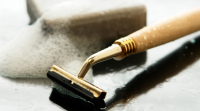 Many men believe that the best way to prevent shaving bumps is to let the skin rest for several days between shaves, but this isn't the solution for preventing shaving bumps.
So the short answer is … no, shaving daily does not cause shaving bumps. You can rest your skin as long as you'd like, but unless you change the way you shave, you'll keep getting those bumps.
The primary cause of shaving bumps — also known as "ingrown hairs" — is hair growing back into the skin. So the frequency of shaves isn't the root of the problem; it's the method of shaving. Proper preparation, along with shaving with the grain, is the best way to keep the hair above the skin line. As long as you keep the hair above the skin line, the hair has more of an opportunity to continue growing outside of the skin, therefore greatly reducing the chances of getting shaving bumps.
_________________________________
**From Craig the Barber's expert Q+A at Men's Life Today