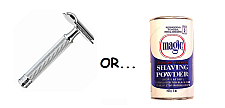 Well, I wouldn't give up on shaving so quickly. I've personally noticed that once someone has learned the proper way to shave his face with a razor, all irritations typically subside.
Depilatories (i.e. Magic Shave, Nair…) can be a great hair-removal alternative for some, but I've consulted with men who have experienced nightmares with their use, and I've also tried my share of them with mixed results.
The main concerns are: (1) Can your skin handle the aggressive nature of these products, and (2) Can you wait two to three days for your face to heal before you are able to use them again?
In short, since everyone's face has different sensitivities, I feel that it's much easier to control a razor's cutting ability rather than depend on the effectiveness of a chemical. The skin quality (oily vs. dry) can also play a role in the success of a depilatory. Unfortunately, finding out whether it will work with your skin could result in an increased level of skin sensitivity. My suggestion is to practice proper shaving techniques, buy a good razor and shaving cream, and give that razor another try before going down an alternate route.
_________________________________
**From Craig the Barber's expert Q+A at Men's Life Today