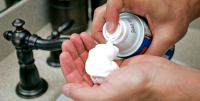 You know, there's evolution in just about everything, and the world of shaving is no exception. Take a look at shaving creams as an example, and it goes without saying that we've definitely seen tons of improvement!
But with that being said, I'd have to admit that when it comes to shave foams, I truly prefer other methods of achieving a great lather.  Hey, I completely understand the rationale for their use… "to allow for the development of a quicker lather". With shortcuts; however, there will always be sacrifices, and in this case it's the most important one- moisture. Without enough moisture, there is a greater risk of razor burn, nicks, and hair-pulling – which can lead to ingrown hairs. At this point, I'm not convinced that the current foams on the market offer enough moisture to be considered a preferred aid to shaving.
You see, in a world of sharper blades and men finding ways to shave faster (slow down guys, really…), there should never be a question of whether there's ample moisture on your face. So try to stick with one that will leave no doubt. Trust me, if you Dad or Grand-dad had these many choices today, he'd completely agree!
*For those of you willing to take the challenge of finding an alternative to the old school shave foam, you can start by trying out the 2011's Must Have Shaving Cream!