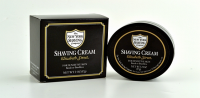 A client of mine gave me a tub of  The New York Shaving Company's – Elizabeth Street Shaving Cream, and suggested I give it a try since it was one of his favorites. Flattered and anxious, I took it home and placed it on my sink for my next day shave.
Once I opened the top, the fragrance immediately transported me back to the old iconic shaving barbershops of my youth. Then with one swipe across the top with my badger brush, and a quick mix in my mug, I was blown away by the amount of lather it produced!
To be quite honest, the above title doesn't do this shave cream justice at all. I literally had enough lather to shave at least three times. So not only was the lather great, so was my shave! And the best part, its performance remained consistent after multiple shaves on different clients at the barbershop.
This cream possesses exactly what I mean when I suggest over-prepping the beard to achieve a smoother closer shave, and it does so all in one step!
Mixed with  – Coconut oil, Glycerin, Organic Cocoa Butter & Organic Aloe, and priced competitively at $18 for a 4oz tub, you can trust me when I say, "you will love it!"
Enjoy!
[xrr rating=5/5]