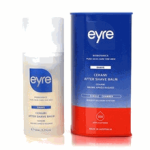 Of course you know the importance of after shave… right?
If not, then read this:  After shave… for what?
Then after that, buy this!  ~> Eyre BioBotanics Cehami After Shave Balm
This after shave's main ingredient is Cehami, a native Australian plant that has anti-inflammatory and skin renewal properties. That means that it's perfect for the every day shaver that needs a little more help in the daily skin recovery category!
Along with the added ingredients of Menthol, Witch Hazel and Terpenes (helps accelerate the natural healing process), Eyre BioBotanics has successfully created a miracle cream for the needs of the "feshly shaven" face!
Try it… you're gonna' like it!