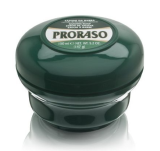 Created by Ludovico Martelli over 70 years ago in Florence, Italy.  This shaving cream remains on the top of the list for the quality lather that it can produce.  It is also known for being "the" shaving cream, that many other shaving creams try to imitate.
The name?… Proraso Shaving Cream
At times this cream can be very hard to find.  But once you find it, and try it, you will never forget where to pick up another!
Proraso Shaving Cream, is a traditional shaving soap that is designed to be used with a badger brush. But, if you're short on time?  No worries… Proraso also provides the same cream in a tube, so you can go brush-less.  Either way you decide to use it, be prepared to experience more lather than you could ever dream of!
As I have stated in many of my posts, moisture is the key to a smooth and comfortable shave.  So don't wait too long to experience this cream.
[xrr rating=4.75/5]