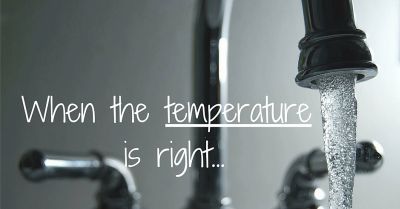 Has anyone ever explained to you why you should use warm water to shave? In my post – Put something on…sheesh!, I spoke on why it was important to lubricate your face prior to shaving.  But, I also mentioned warm water is one of the musts for a comfortable shave. Warm water is the perfect temperature to get the closest most comfortable shave.
Why warm water?
For Hair
Water, breaks down the hydrogen bonds that keep hair firm, therefore making the hair follicles fragile or weak.  Ever notice how quickly your hair gets soft once it gets wet?
For Skin
A slight increase in water temperature acts to kill bacteria on the skin, helps create a better lather, causes the pores to open, and makes the skin softer and more pliable.  This allows the hair to be cut easier and closer.  If the water is too warm, the skin can become sensitive to the touch, inviting irritation of the skin (ie. razor burn) after shaving.
So there you have it.  Who knew shaving was a science?
Shave warm guys!