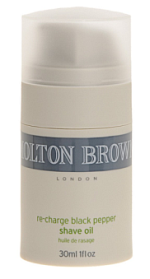 Guys you know where I stand when it comes to using pre-shave oils, I'm a big fan! So I jumped on the chance to try one with a great sounding name-Molton Brown's Black Pepper Shaving Oil.
Made with Madagascan black pepper oil so it gives off a very recognizable black pepper scent, but not over-powering at all. It delivers it's oil in a "pump-style" plastic bottle, which I like because one pump dispenses more than enough to prep the face. And since it's plastic, it's easy to hold especially when your in the shower with oily hands…
For me, the oil diluted very easily, and lost its oily consistency when my face was too wet. This made it's performance not as good as it's pre-shave oil competitors. But with that being said, my shave was still fairly comfortable and nick free.
Molton Brown's Black Pepper Shaving Oil, makes for a great scent while shaving. But at the price-point of $29, it just didn't "wow" me enough!
[xrr rating=3.50/5]