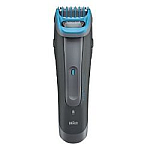 Braun, one of the industry leaders in the world of electric shaving, has been around for many years helping men look their best.  I personally have been a fan ever since I picked up my first pair of trimmers. Their shavers have always ranked high on my list of "go to" electric shavers, so when I saw their newly redesigned CruZer Series trimmers, I was very excited to try them out. The Braun CruZer series is a collection of 4 shavers that are designed to allow you the freedom to trim and maintain multiple beard styles.
For the month of September, I chose the CruZer 6 Beard & Head as my P.O.T.M. The primary reason this particular model stood out is because it is geared towards achieving and maintaining the "scruffy" beard (See Post: How to Wear a Scruffy Beard) style, which is a big trend right now. The CruZer 6 is an essential tool for preserving the perfect amount of scruff day after day.
This CruZer allows for an easier way to achieve the desired length of beard by adjusting the settings on the shaver itself, eliminating the sometimes frustrating process of using comb guards, as found on a standard trimmer.
If you want more flexibility in your beard styles, and you are looking for a trimmer that can also give you the "clean look", rest assured… the CruZer 6 can handle that request, too! Another neat aspect of this shaver is that the trimmer slides out so it can be used for detailing, or on those harder to reach areas of the face. Not to mention, it's multi-purpose and perfect for a quick clean-up for your hair as well!
All in all it's a great addition for home, work, gym and definitely travel. Give it a try!
[xrr rating=4.25/5]