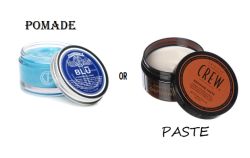 Oftentimes I hear pomade and paste being used interchangeably, as in "I'll style my hair with pomade/paste." Well guess what. Pomade and paste are not interchangeable, in fact they are quite different as each is designed to achieve a distinct look. And, depending on your hair type one – not, as many think, both – may be the best option for you. 
With the popularity of styles going as far back as the 50's and more recently the 70's & 80's, pomades and pastes are getting a lot of attention. But with their popularity their can sometimes be some confusion about which one to buy.
So here's a simple breakdown:
Pomades typically consist of water, oils and waxes. They were originally designed to create control (think Pompadours, and Afros). Because of its high oil content, pomades are the go-to for adding shine and highlighting texture in the hair.
Pastes typically consist of water, oils and silicone (one of many options). They were created to also deliver hair control. But with the missing ingredient of waxes and the higher water content, the appearance of "no shine" & effortless style is it's highlight. In many cases the paste is the easier of the two to wash out.
So if you're in the market for attention grabbing high shine, the classic pomade is always the right choice. For a more subtle approach consider the paste.
Popular Pomades – Murray's Original Pomade, Blu by John Allan's, Pomade Slick by Baxter of California
Popular Pastes – Texture by Bumble and bumble, Defining Paste by American Crew, Shape Paste by Shu Uemura