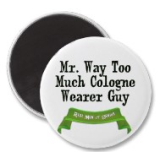 Just a few days ago, I walked into an empty elevator only to be overwhelmed by an extremely strong cologne fragrance. Needless to say, the scent of my cologne was non-existent by the time I escaped, only to have a brand new hybrid fragrance of some sort. Thanks, Mr. Way-Too-Much-Cologne-Wearer Guy!
Of course adding a nice fragrance will only enhance your overall presentation and appeal, but we must all remember that a little goes a long way. Especially if that cologne already has a strong fragrance.
By the way, it's never too late to learn how to master the "art of wearing cologne"… (for those who need a refresher, see post: How to Wear Cologne).
So lets' get it right, and umm… try to avoid small enclosed spaces when spraying!