It's that time of the year!
The month of November will never be the same again because men everywhere are preparing their faces for a mustache growing event of global proportions! If you don't know what I'm talking about, consider yourself enlightened to a growing charity event that helps to spread awareness and raise money for men's health issues, specifically prostate cancer and other cancers that affect men.
The event is called Movember.
It is an international charity event, where men begin growing mustaches on Nov. 1st  for 30 days, and seek sponsorships from friends & families for their efforts. On the 1st, guys register at Movember.com with a clean-shaven face. For the rest of the month, these selfless and generous men, known as Mo Bros, groom, trim and wax their way into the annals of fine moustachery. Supported by the women in their lives, Mo Sistas, the Movember Mo Bros raise funds by seeking out sponsorship for their Mo-growing efforts.
"Think of it as a walk for a cure, but the walk is happening on men's faces." 
Show your support by donating or joining the movement!
Click below to donate.

 Click below to register and/or join a team.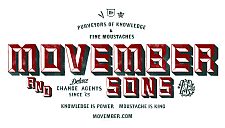 Click below for 2 quick & easy ideas and how to get them! 

 Good luck! 
*My Mustache jar (photo)