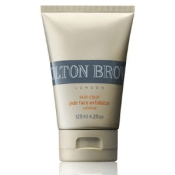 Remember my post (Exfoliate?…Should I?) where I discussed in great detail the importance of exfoliating?  Ok, maybe not great detail, but you got the point!  Well, on this 7th post 'til Christmas, I decided to blow you away with a brand new men's grooming line by Molton Brown, more specifically their….
Skin Clear Jade Face Exfoliator
I'm at a loss of words with this one, because I am not quite sure how to describe it.  Different? More like nothing I've ever used/experienced before in an exfoliant…in a great way!
Listen to this…
Ground jade stone
Jojoba
Tea tree leaf
Pistachio butter!?!
Who would have thought to put these ingredients together? That's right, Molton Brown!
This is great stuff! From the texture, to the delightful aroma, to the way your face feels afterwards, you can't go wrong.  At just under $30, I will admit it's pricey; but, as the old saying goes…"you get what you pay for!"