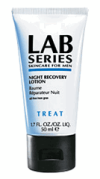 I don't have to tell you that moisturizing your skin is important. You already know that…right? After all, with so many elements out there (sun rays, cold temps., winds…) ready to damage your skin, you practically have to carry a tube of moisturizer in your gym bag.
So here is one that you can try. 
Believe me, choosing a moisturizer out of so many good ones was a challenge.  So, I chose a product that serves a slightly different purpose.  One gentleman described it's results as, "giving your skin a tall glass of water before
going to bed".  My thoughts…more like Gatorade!
Night Recovery Lotion by Lab Series
Continuous hydration throughout the night with ingredients like…spring water!
Firms the skin and reduces the look of fine lines and wrinkles
Potent anti-oxidant complex (including Vitamin C & E) that helps to protect the skin from natures elements
Perfect for hydrating the skin during air travel and other artificial elemental scenarios
For all skin types
Just over $30, it's an investment. But you know what? It works!  I've used this product for some time now, and every morning my skin looks refreshed, even after only 5 hrs of sleep.