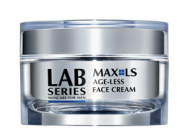 This item was TheMensRoom.com's Product of the Month for September (See Post: The science of looking younger!).
But, it also made the list of "Must Have's" for the year 2010!
Why? 'Cause it works!
Max LS Ageless Face Cream by Lab Series takes on the challenge of aging skin, and successfully wins by slowing down the signs of looking older.
This face cream contains an ingredient called Sirtuin, a protein enzyme (found in our bodies), which aids in repairing cell damage by extending the life of a cell.
So there you have it!…
Now go get it!